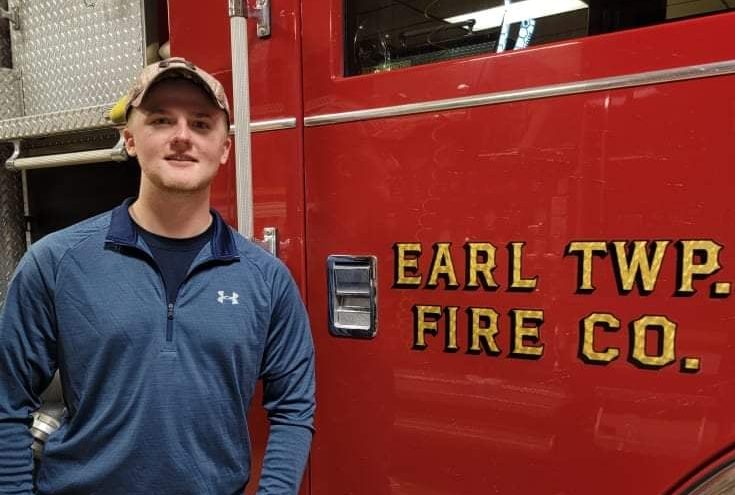 68th Annual Boyertown Area First Responder of the Year – Cody Whitfield
Introducing our 68th Annual Boyertown Area First Responder of the Year – Cody Whitfield!
From a very young age, Cody has always been interested and intrigued in emergency services. Fire prevention days were always very exciting and many can quote him saying "I want to be a fireman one day." He showed up to join the Earl Township Volunteer Fire Co #1 on the first day that he was eligible. With help from his family, he would be driven to the firehouse whenever the pager went off or for any training nights. It was quickly obvious Cody was going to excel as a first responder. Over the next few years, Cody continued serving as a junior firefighter and enrolled in the Protective Services program at Berks Career Technology Center. His time at BCTC provided him training that many his age were unable to obtain. He credits BCTC's program for setting him ahead of his peers.
Cody was class sergeant during his junior year and class captain during his senior year. He also achieved first place medals in the SkillsUSA Firefighting competition two years in a row at the local, county, and state level. During his time at BCTC, he took full advantage of every opportunity and was able to successfully complete National Registry EMT, Firefighter 1, Hazmat Operations, Structural Burn Session, and other high intensity training before graduating. Cody graduated as Senior Of The Year from the BCTC Protective Services Program in 2017. After graduating, Cody started working for Douglass Township, Montgomery County and continues his work there today as a full-time employee. His job includes assisting with day-time responses with the local fire department.
Cody also serves as a volunteer Firefighter/EMT with Gilbertsville Fire & Rescue which enables him to provide the community with added protection during the work day. Cody worked hard to obtain his Emergency Management Basic Certification by Pennsylvania Emergency Management Agency and was appointed as the Deputy Emergency Management Coordinator of Douglass Township, Montgomery County in February 2021. In June of 2020 Cody began working part-time at Bally Community Ambulance as an EMT to assist with staffing during the COVID pandemic. What started out as a fill-in, part-time position, quickly rose to Cody working regularly as a dedicated employee of Bally EMS. Cody was promoted to the position of EMS Lieutenant in January of 2022 where he assists with day-to-day operations, officer in charge weeks, and equipment.Throughout this time, Cody continued to serve as a very active member of the Earl Township Volunteer Fire Co #1. Cody currently holds the rank of Assistant Fire Chief/EMT and has secured over $200,000 in grants to benefit the fire company.
His goals remain the same throughout any of the agencies he serves, providing the best service and protection to the citizens of the Boyertown Area Community. While it is evident that he is very busy serving as a first responder to the Boyertown Community, Cody enjoys spending any time off hanging out with his friends and spending time in the woods. He enjoys going to his family's property at Raystown Lake and spending time on his boat fishing and hunting. Cody has completed quite a lot for his young age and it is evident he cares for the Boyertown Community. He is backed and supported by many, but most importantly his family and girlfriend.