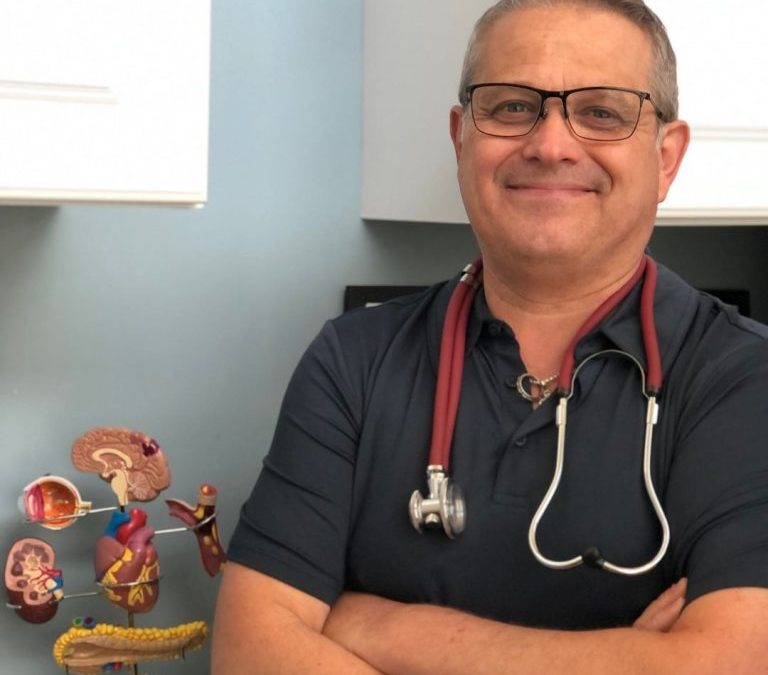 68th Annual Citizen of the Year – Ed Hudon
Ed Hudon is no stranger to helping the community, but in the past year, his efforts to assist community members with their medical needs have reached thousands of people and protected lives. As the co-owner and head pharmacist of The Medicine Shoppe in Boyertown, Ed is known as the empathetic, hometown pharmacist and has spent decades managing patients' medication regimens, caring for his community members' well-being, developing services for patients to take a proactive approach to health, and advocating for patients' rights.
Hudon graduated with his Bachelor's of Science from the Philadelphia College of Pharmacy at the University of the Sciences in 1990. In 1993, he and his wife, Terry, opened The Medicine Shoppe of Boyertown. They have been advocating for their patients ever since.As a Flip the Pharmacy Participant, Hudon has utilized pharmacy improvement methods and implemented patient-centered programming, such as point-of-care testing and MedSync initiatives. He is a Community Pharmacy Enhanced Service Network (CPESN) and PA Pharmacy Care Network (PPCN) Luminary in which he serves as an expert advisor to the network and provides guidance for community pharmacy practice transformation and innovation. When Ed isn't advocating for his patients, he is providing much-needed medical necessities to the community and beyond. He has been providing flu vaccination clinics since 2015, working with the local township to provide free and accessible vaccinations. Last year, Ed implemented hypertension assessments and blood pressure screening events in local nursing and assisted living homes. The pharmacy is now hosting diabetes self management and education services to help patients better manage their health through education and group sessions. Ed also gained a lab license and waiver for basic lab testing, provided numerous compounded medications for patients and pets, and expanded their business' clinical services during the pandemic, seeing that a pharmacist is the most accessible health care professional. His biggest community-wide project to date is hosting COVID-19 vaccination clinics.
When the COVID-19 pandemic hit our area, Ed saw a need – local community members were struggling to find a COVID-19 vaccine. Berks county was left off the list of initial vaccination distribution, and Ed met with local officials who sent this plan to Governor Wolf to ensure these vaccines came to our area. Ed then assembled a powerful and dedicated team, composed of pharmacy staff, local community volunteers, and family who eventually morphed into an organization called the Boyertown Community Covid Vaccination Project. This team got to work right away to provide vaccination clinics to healthcare workers and residents at assisted living and nursing home facilities, and plan mass vaccination clinics to vaccinate these individuals. He then moved on to start mass clinics for all demographics, making sure every community member had access to a vaccine. For example, creating a hotline with volunteers to schedule appointments for those without internet access. His tenacity in giving every community member the option to have the vaccine was a monumental task, and he handled it with grace and determination.
In addition to being the 68th Annual Boyertown Citizen of the Year, Ed was the 2021 recipient of the NextGen Pharmacist of the Year. In 2022, he was also awarded the APhA Immunization Champion Award for community outreach and the James K Boyer Quality of Life Award. For tickets and event information, please visit https://boyertowncoty.com/…/68th-boyertown-citizen-of…/#boyertowncitizenoftheyear#boyertowncoty