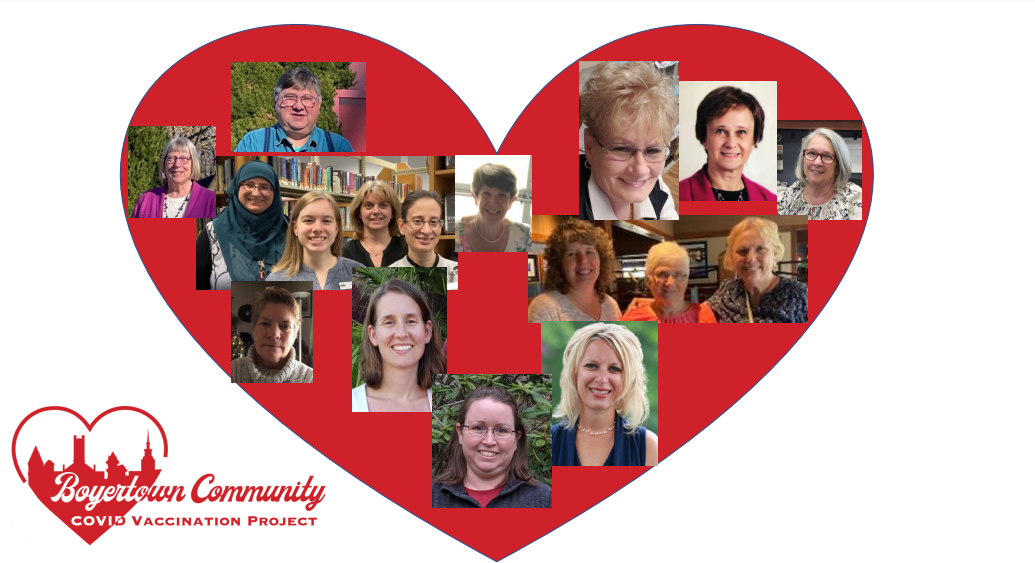 68th Special Recognition Award – Boyertown Community Covid Vaccination Project
When the COVID-19 pandemic ravaged the world, Ed and Terry Hudon, owners of The Medicine Shoppe of Boyertown, knew it was their responsibility to prepare for protecting the community. They understood how many people they were meant to protect and educate, and they knew the possibilities of their community, their resources, and their community's resilience.
Once the vaccine was approved under emergency use authorization in January 2021, they were discouraged and disappointed that Berks County was left out of the initial phase. The community was left scared and confused, many traveling hours to locate a COVID-19 vaccine. The most vulnerable and elderly struggled to get vaccinated because of difficulties navigating technology needed to schedule appointments. A myriad of emails on a Sunday afternoon from a fearful community further cemented the need to provide vaccines to the community. Monday morning brought an early phone call from a Boyertown citizen wanting to help in any way possible. Brent Rothermel met with Ed that evening to develop a plan. They prepared a presentation and sent it to Governor Wolf and Commissioner Leinbach which then awarded Berks County the initial doses of the vaccine. Brent then got to work and contacted churches, the township building, and other local organizations to set up a meeting as well as assemble a network of volunteers to man call centers and start advocating for our most vulnerable.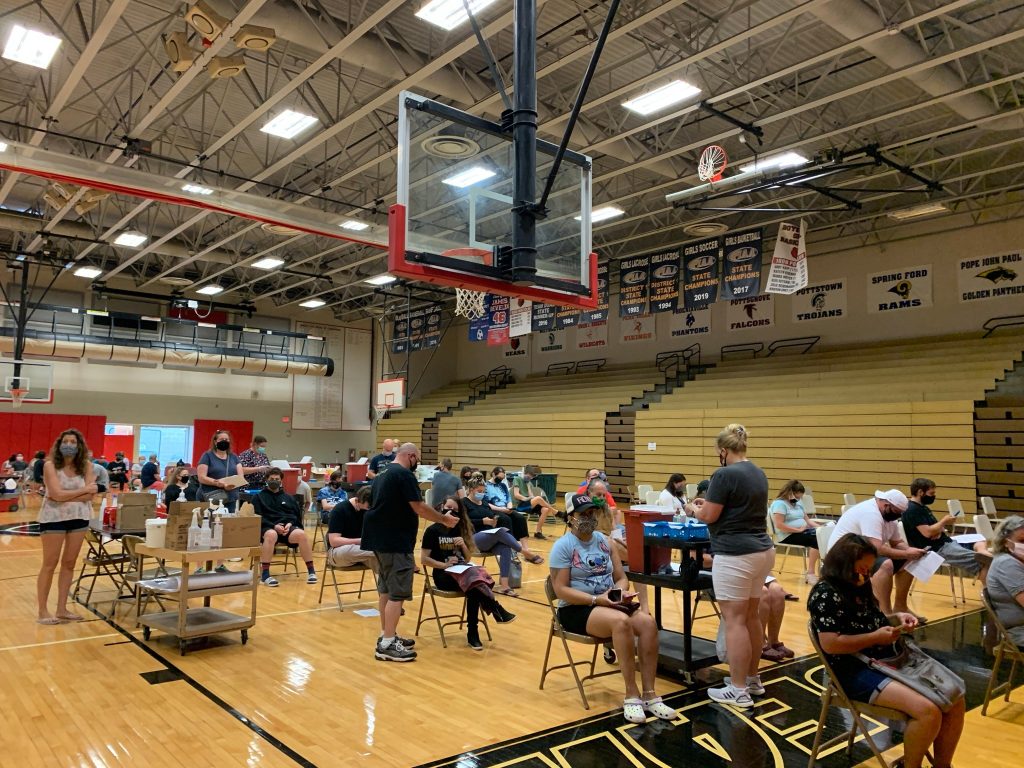 There were a number of elements necessary for such an undertaking, such as the call center, a location, a method, and a vast number of volunteers. The community initially assembled a powerful and dedicated team composed of pharmacy staff, local community volunteers, and health care professionals who eventually morphed into an organization called the Boyertown Community Covid Vaccination Project. The team grew in efforts, utilizing volunteers from the local churches to man a hotline to schedule appointments for those without internet access. Then, in conjunction with the Boyertown Community Library, the first Boyertown Community Covid Vaccination Clinic was born.
At the same time, the pharmacy started to provide clinics to local residents at assisted living and nursing home facilities. Once the senior population, immunocompromised citizens, healthcare workers, and first responders were vaccinated, the clinics were opened so that all community members were able to receive a dose. One email from a teacher put the pharmacy in contact with the Superintendent of The Boyertown Area School District, Marybeth Torchia.
In what started as an effort to vaccinate Boyertown Area School District teachers, the Vaccination Project began working with the district to provide larger clinics in a much-needed larger space. This allowed for mass vaccination of at-risk people in the community. Wayne Foley, principal of BASH, was instrumental in developing algorithms to safely organize patients and execute vaccines within the high school. Meanwhile, school staff, nurses, security, trainers, principals, and students from the Boyertown Area School District joined forces to volunteer for a shared cause. Mary Archey and a team of dependable and patient data entry volunteers kept the ship afloat by reporting thousands of vaccinations to the state week after week. Honors students from Springford and Boyertown Area Senior High schools helped direct patients and kept the gears turning for this large operation.
Volunteers from girl scouts, medical staff, and community members came in droves to make this operation possible. This dedicated and diverse team of volunteers also spanned the state of Pennsylvania. Pharmacy students from the University of Pittsburgh, University of the Sciences, Wilkes University, and Duquesne University drove hours to volunteer their entire day to support the community. The Grill Shoppe and other local restaurants fed the committed volunteers. Alison Moyer, communications specialist serving the Boyertown Area School District and The Foundation for Boyertown Education devoted hours, days, and months of her time to assist, organize, and plan for each clinic. Throughout these efforts, The Boyertown Community Covid Vaccination Project as a whole maintained one important value: to never force opinions on anyone and respect decisions of each individual. The team's main goal was to give every individual the option and educational means necessary to make medical decisions that were best for themselves.
These clinics did not only involve preparing, setting up the clinic, analyzing consent forms, monitoring patients, reporting to the state, cleaning up and facilitating homebound visits for those that could not get to the clinic. It also entailed educating patients and respecting each individual's wishes. Friendship and trust created the space to immunize the masses.
It cannot be stressed enough that this combined effort was more than just vaccines, but the ability of those around us to join forces for a shared cause: protecting the community. Everyone's joint and individual efforts deserve recognition, applause, and gratitude. The number of volunteers that donated countless hours of their time to help the cause are likely in the hundreds. Their tenacity in providing services to our community was a monumental task, and they handled it with grace and determination. THANK YOU to everyone involved in this project. This effort truly could not have been accomplished without your selflessness, generosity, kindness, and dedication during a difficult time for the world. For tickets and event information, please visit https://boyertowncoty.com